All Inventory
GAMING TRAILER 5 TV'S TWO YEAR WARRANTY CABINETS FINISHED FLOORS FINISHED WALLS BARN DOOR SIDE WINDOW AC AND HEAT
Stock #: 8.5x22 vin#5396
Texas built food concession trailer. We are a one stop shop for all your concession needs. 1-Model # VT 8.5 X 16TA 1-60" Triple Tube Tongue 1-60" Extended Black Steel Plated Generator Platform 16-L.T.F .030 Color 1-Matching Screws (white, black, red, green silver orange) ...
Stock #: 8.5X16TA FOOD TRAILER
8.5x24 Concession/Race Car Enclosed Cargo Trailer. Toy Hauler. Sold in Dallas, Tyler, Waco and San Antonio.
Stock #: 8.5x2402631
-Side Serving Window -Sinks -Cabinets -Electrical Package -Nice new finished interior with rubber mat flooring and finished walls -Ac and Heat -Water Package with fresh and grey water tanks and water heater -Led lights -Rear Porch for BBQ Pit -5200lbs tandem axle -led flood light ...
Stock #: 8.5X20 BBQ Trailer PORCH Trailer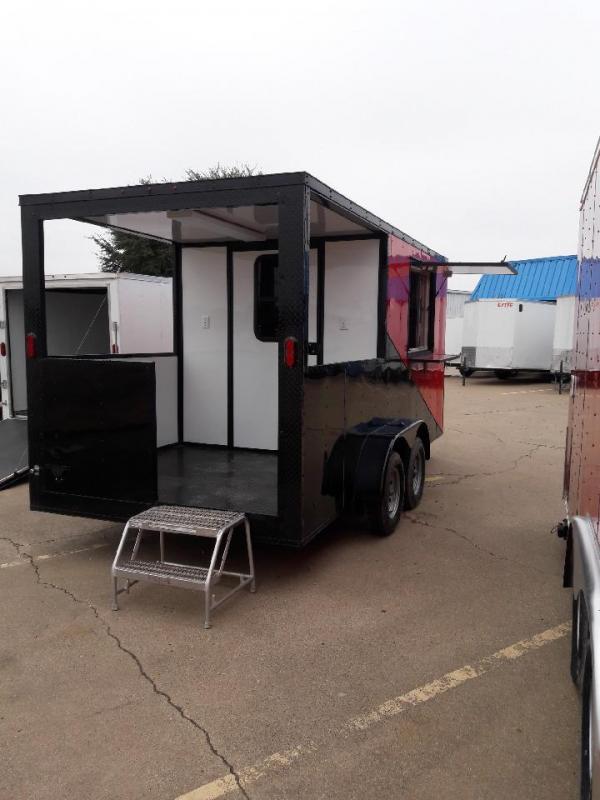 2022 Salvation Trailers Red/ Black 7x16 Concession BBQ Sink Pkg Electrical package Water package Ac Side serving window Cabinets Insulated walls Rubber mat flooring Aluminum finished walls Two year warranty Texas Built
Stock #: 7x16-0000
CONCESSION FOOD PORCH TRAILER CABINETS SINKS VENT-A-HOOD SIDE SINK ON PORCH SIDE SERVING WINDOW ON DRIVER SIDE 3 WINDOWS ON PASSENGER SIDE SIDE DOOR RUBBER MAT FLOORING STAINLESS WALLS ELECTRIC JACK
Stock #: 8.5x2804928
Get a Quote
Please enter your contact information and one of our representatives will get back to you with more information.
Click to Call
Please enter your name and phone number to get calling options.